Contributing physicians in this story
We are living during an era of exciting discovery and innovation in the fields of technology as well as in medicine. With such rapid advancements in healthcare, it is fundamental to keep the patient, who is the recipient of such progress at the center of focus. Injured athletes seek pain-free restoration of performance as quickly as possible. Patients with arthritis are living longer and desire to remain active. How we apply technology to improve an individual's outcome is called patient reported outcomes.
The US Food and Drug Administration defines patient reported outcomes (PROs) as any report of the status of a patient's health condition that comes directly from the patient without any interpretation of the patient's response by a clinician or anyone else. Some examples include a patient's report of their symptoms, physical abilities, function, or satisfaction with treatment.
History of using patient reported outcomes
We have used PROs in medicine for decades. In fact, Jack C. Hughston, MD, used a type of patient-reported outcomes during the 1970s. He developed a questionnaire that asked a patient about their function and pain level. The patient completed the questionnaire during each clinic visit so it provided insight before, during, and after treatment. The patient completed Dr. Hughston's preprinted-paper questionnaire with a pen, then the completed survey became a part of the patient's medical record.
Today, patients are sharing their physical well-being and treatment outcomes more than ever. The patient can report symptoms, function, activity limitations, health-related quality of life satisfaction, side effects, treatment experience, work productivity, impairments, adherence to treatment, and much more. Patient goals and the goals set by their physician are more in line when the patient specifically documents their treatment experience. This means physicians can use the data to make effective changes that improve treatment plans for your medical condition. Since the patient gives the information directly to the clinician through a survey or questionnaire, the physician is able to review it sooner. Providing patient experiences and outcomes can lead to treatment plans that improve function, quality of life, and overall better outcomes for a patient. The feedback does not fall on deaf ears either. Researchers pull together the information with that of other patients so they can study and compare the data.
Why does it matter?
We are increasing the use of PROs for clinical care and research. The outcomes are important because they reflect the reason that a patient seeks healthcare services in the first place. There are many measurement tools, which we refer to as patient reported outcome measures (PROMs). By using a direct unfiltered inquiry, PROMs measure what patients are able to do and how they feel. They reflect the patient's direct voice throughout the course of treatment. Therefore, using the details you provide, researchers can study and assess various outcomes. We collect and study the data to help providers with formulating better treatment methods in the future.
How it works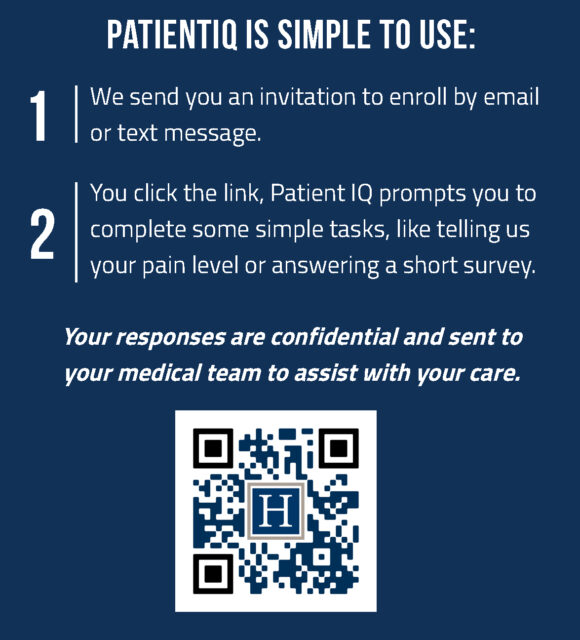 It is easy to participate in PROs and it is simple to use. As a patient, we log your signs and symptoms into your health record and invite you to enroll by email or text message in our new program called Patient IQ®. Once you click the link, Patient IQ® will prompt you to complete some simple tasks, such as telling us your pain level or answering a 3- to 5-minute survey specific to your diagnosis.
Your responses are confidential and sent directly to your medical team, who then plans the best possible care for you. As you continue your treatment, we will check with you occasionally for an update on how you are feeling. Our goals with using this new technology are better patient experiences and healthier outcomes for you.
It's as simple as answering a few questions that come to you in an email or by using a computer or tablet during your clinic visit. In fact, it is easier than when Dr. Hughston years ago asked his patients to complete a paper survey. Nevertheless, just as you are reaping the benefits of those patients and their outcomes, tomorrow's patients, as well as you, will reap the rewards for your efforts today. And for that, your doctors thank you for helping us better serve you.
Author: Brent A. Ponce, MD | Columbus, Georgia
Last edited on October 19, 2022